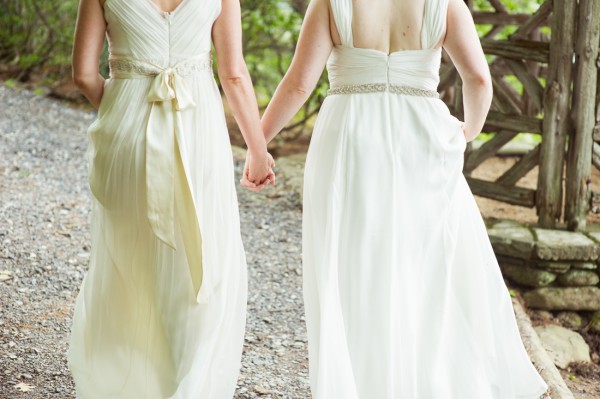 Jodie and Kelly's Wedding
Even after a few years going this, when I start a wedding, I still feel pumped with adrenaline and excitement, a feeling similar to that of waiting for a call for a race to start, go on stage, or present at a conference (like I did in a past life). In a little while, the feeling usually dissipates, as I get so immersed with what is happening around me  that I forget it. It was different when I joined Jodie and Kelly for their wedding at the Catskill Mountains. There was such an atmosphere of serene happiness about the setting, the two beautiful brides and everyone who was there that I felt the same sense of calmness way as soon as I got there. Jodie and Kelly had already been staying at the beautiful mountain lodge before their wedding day and spending time with the people close to them (including a bonfire the night before). It must have been a special couple of days: I felt as I was walking in the middle of something magical.
The rest of the day went the same way. Preparations  involved a lot of reflection, writing to or about each other, serenity and enjoying the moment they were living. The ceremony was one of the most beautiful, personal and original I have ever seen. It involved a children's book, great advice from young but very wise little students of the couple, officiating and a song by a close friends and some beautiful sincere vows that made people (ok, me :-)) cry. This was followed by a reception that was pure love and joy. It was a perfect day and it was amazing to experience it.
Congratulations on your wedding, Jodie and Kelly. May your life as a married couple be as full of beauty, serenity, happiness and love as your wedding day! Thank you so much for making me a part of it.
Vendors (all who seemed excellent): venue: Onteora Mountain House (gorgeous!) | Flowers: The green Cottage | Band: Bud Maltin | Hair: Cherri Voss Salon | Dresses: Lovely Bride and Saja … and thank you to my wonderful second shooter, Brian.